Hosting a Wedding During a Pandemic
If you're planning a wedding in 2020, you're going to have to make some adjustments because of COVID-19. At this point it is safe to say that any wedding in 2020 will look different in some way. Below are some tips for hosting a wedding during a pandemic and how to keep from pulling all your pretty hair out!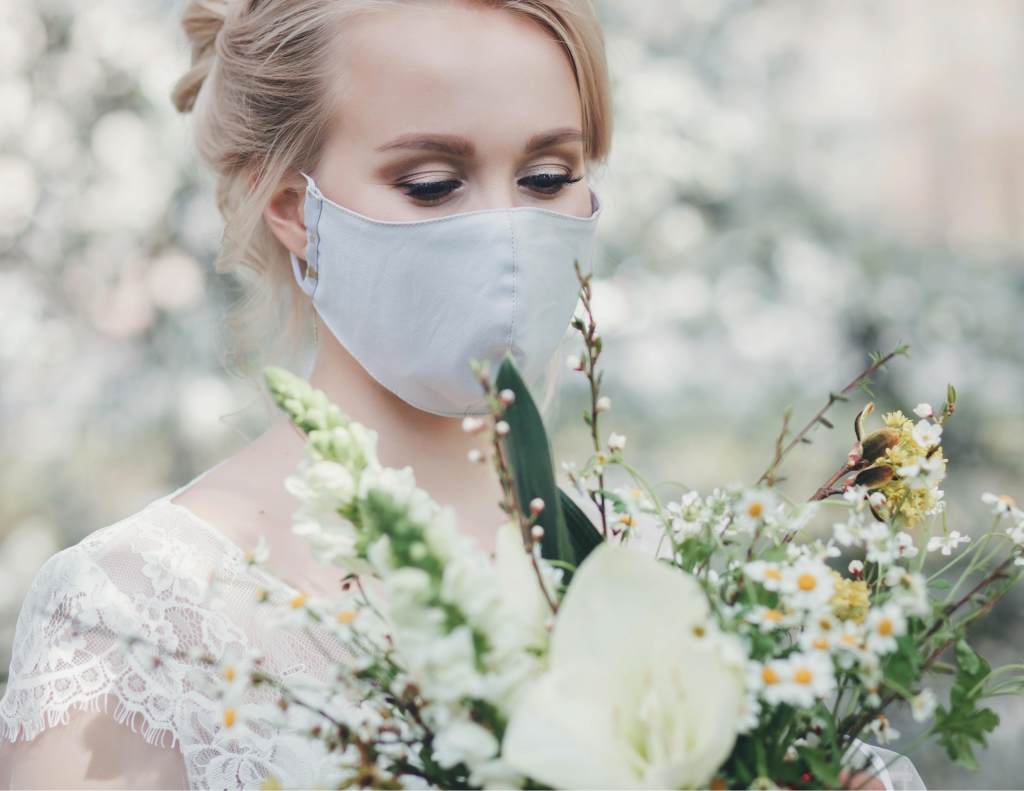 1. Hire a wedding planner.
They're going to do their best to keep track of the ever-changing state and local regulations, helping you navigate the social distancing logistics of the day. Planners can help you find a solution to any problem that may occur. Also, there isn't one blanket answer for every couple on what to plan and prepare for. A lot depends on your wedding date, location, and guest count. Hiring a planner means an expert is looking at the dynamics and logistics of your event, then offering advice and help catered to your specific needs.
2. Have plenty of masks, hand sanitizer, and sanitizing wipes on hand.
As the host of your wedding, it is important to make your guests feel comfortable and safe. Plus, the last thing you want from your wedding day is everyone going home sick.
I saw a great "social distancing bracelet" idea. Guests choose a colored bracelet to best describe their social interaction comfort level. For example, a red bracelet says: "Please don't talk or approach me, I'm being very careful." A green bracelet means: "I'm okay with talking, but no touching!" A blue bracelet would mean: "Bring it in for a hug!"
3. Check in with your venue on any requirements.
Pay close attention to what the venues are allowed to do. Government regulations are ever-changing and usually the venues are the first they notify of any recent restrictions or guidelines to events and weddings. Be sure to keep in close contact with them for any updates!
4. Maintain an open conversation with your vendors and your guests.
Communicate what precautions and safety measures will be taken on your wedding website so vendors and guests can make an informed decision on whether or not they should attend. Some may be uncomfortable with attending, and that is okay.
5. Downsize the guest list.
This is a hard one. However, according to the CDC, gatherings should be restricted to less than 50 people. Most of my clients have decided to postpone to 2021 versus reducing the amount of guests they're inviting. However, if postponement just isn't in the cards and you still want to get married in 2020, consider an intimate wedding or a micro-wedding! They're still just as beautiful and just as special. Smaller weddings help couples focus on what actually matters. Plus, you can put your money towards other things like extravagant flowers, fancy foods, or adding more coverage time with your photographer or videographer.
6. Space tables further apart and assign seats.
You can opt for smaller tables that fit 4-6 people per table, then group families or friends that will arrive together at the same table. Spread your tables out, at least 6 feet apart, if possible. If your reception is outdoors, even better!
7. Consider a virtual wedding.
Wait! Hear me out. You may have to downsize, but that doesn't mean everyone who was on your original guest list can't partake. Zoom, Google Hangout, or Facebook Live are all great platforms. Consider inviting your close family and friends, then inviting the rest of your guests virtually.
8. Expect change, adjust your expectations, and roll with the punches.
Remind yourself that the most important part of your wedding day is that you get to marry the love of your life! Keep your eye on the end game and focus on the love you have for your partner.
My heart goes out to every couple whose wedding plans have been affected in a negative way by COVID-19. If you have any questions or if I could be of any assistance, feel free to reach out!