Escort cards and place cards are the same thing, right?
They're kind of the same but also very different!
Place Cards
Place cards designate a table AND a particular seat for guests to sit in. They are placed on the dining tables at each place setting to let the guest know which seat is theirs.
For example, let's say I'm a guest at your wedding. I go to the beautifully designed escort display (description on what escort display is to come, keep reading!) and find my name (which was easy to find because it's in alphabetical order, hopefully!). My name is listed under table 10. I go to table 10. There, I find a place card with my name next to my seat and plate.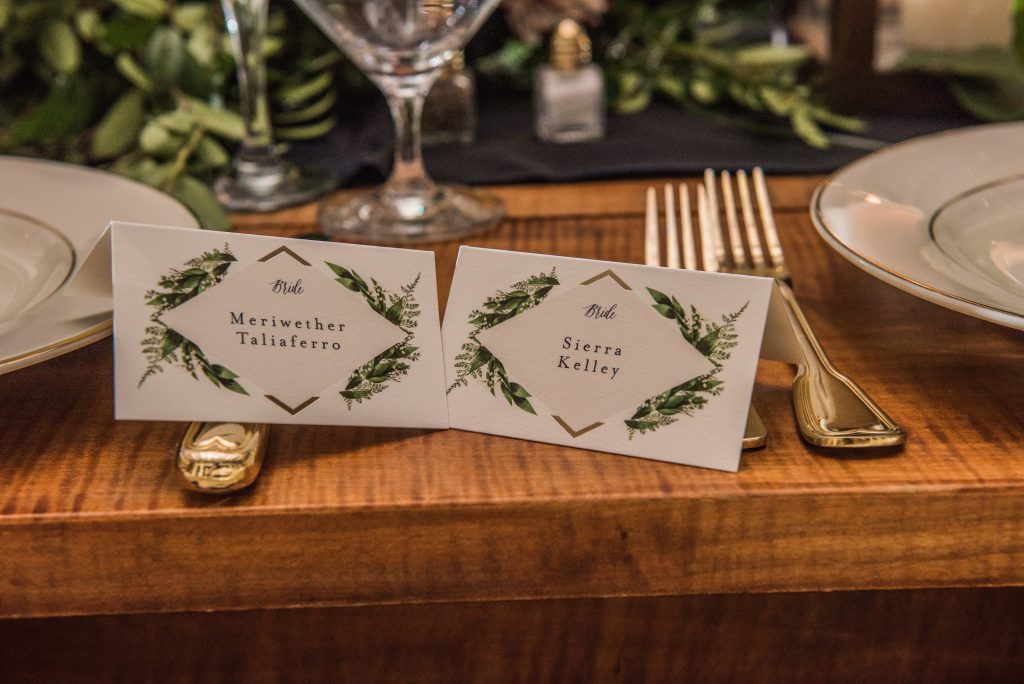 If you're having a seated dinner with menu selections (chicken, beef, vegetarian, or fish) most caterers will require place cards. On each place card, you'll want to subtly hint what the guest ordered for their meal. This is so the serving staff knows which plate of food to give to each guest. For example, if I ordered the chicken, there may be a cute little chicken somewhere on my place card.
I usually give the caterers a list of names with table numbers, seat numbers, and meal choice to make service that much easier!
If you're giving the caterer seat numbers with meal selections, then place cards don't have to be place cards at all! For Sarah & Brian's wedding we used gold acrylic nameplates.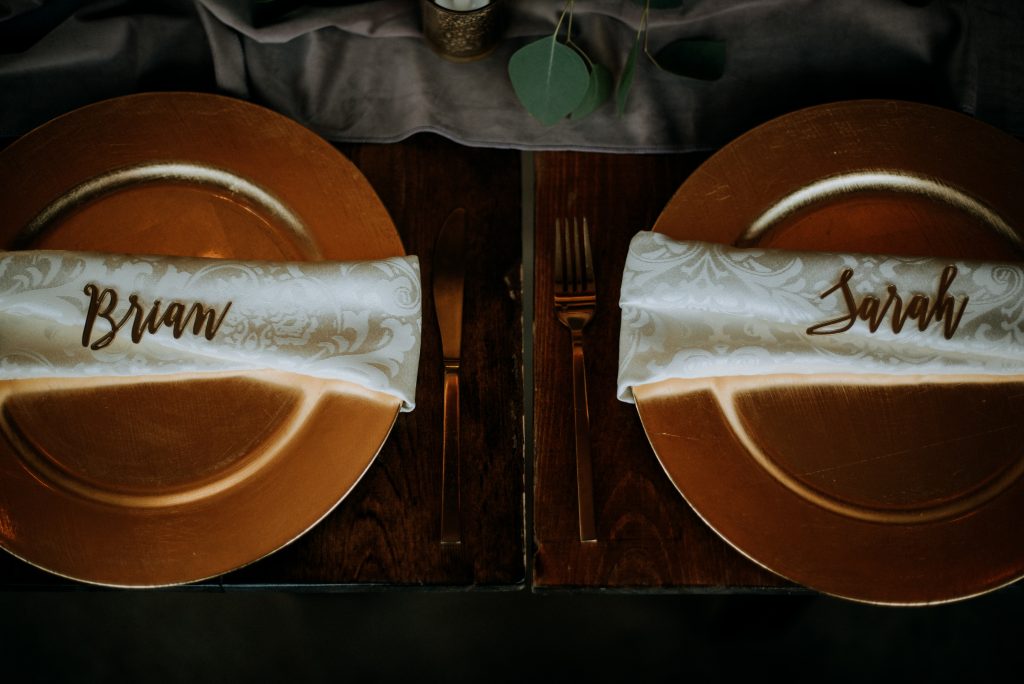 Escort Cards
Escort cards direct guests to a specific table. Once they get to the table, they're free to choose whichever seat they'd like to sit in. They are usually displayed in the cocktail hour space for guests to find before they go into the dining area.
If I'm a guest at your wedding, I'll see cards arranged (in alphabetical order!) or displayed somewhere. I will find my name and on the card it will say I'm sitting at table 10. Once I get to table 10 I can choose which seat I'd like to sit in.
Escort Displays
Escort displays work like escort cards in that they tell the guest which table to sit at, but there are no cards. These are used in place of cards and usually play into the design of your wedding. There are so many ways to get creative with escort displays!
Here is an escort display using champagne flutes. In each flute, there was a stirrer with the guest's name and table number.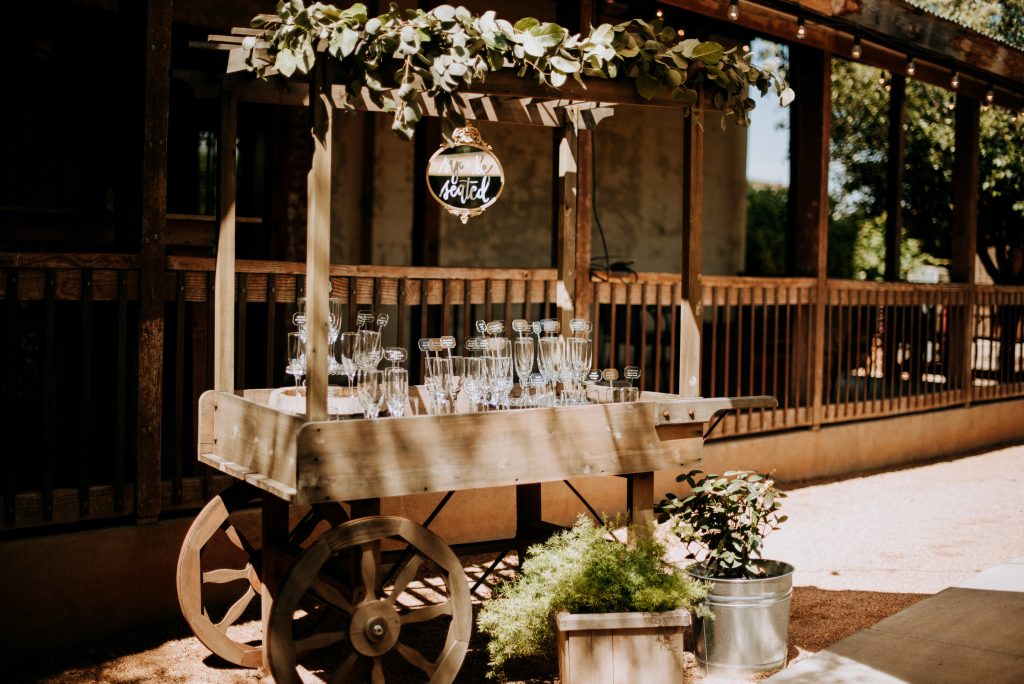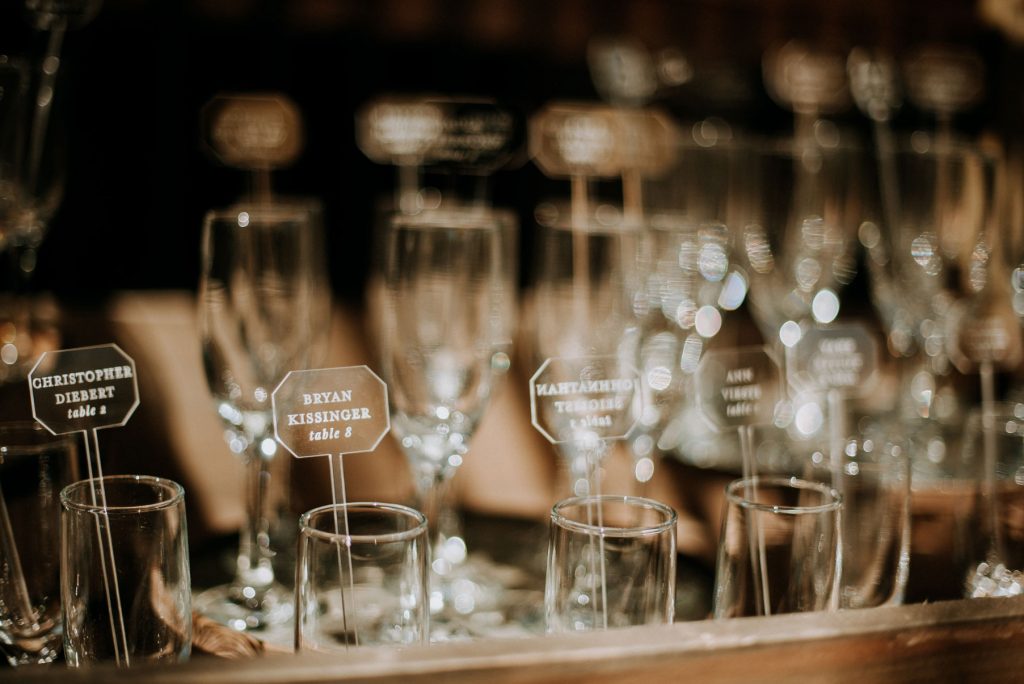 The names should be placed in alphabetical order to make it easy for guests to find their name. I know it is tempting to arrange guest names by table, but in that case guests will be standing in front of the display looking for their name, slowing down traffic entering reception.
Here is an example of an escort display I created for Audrey & John!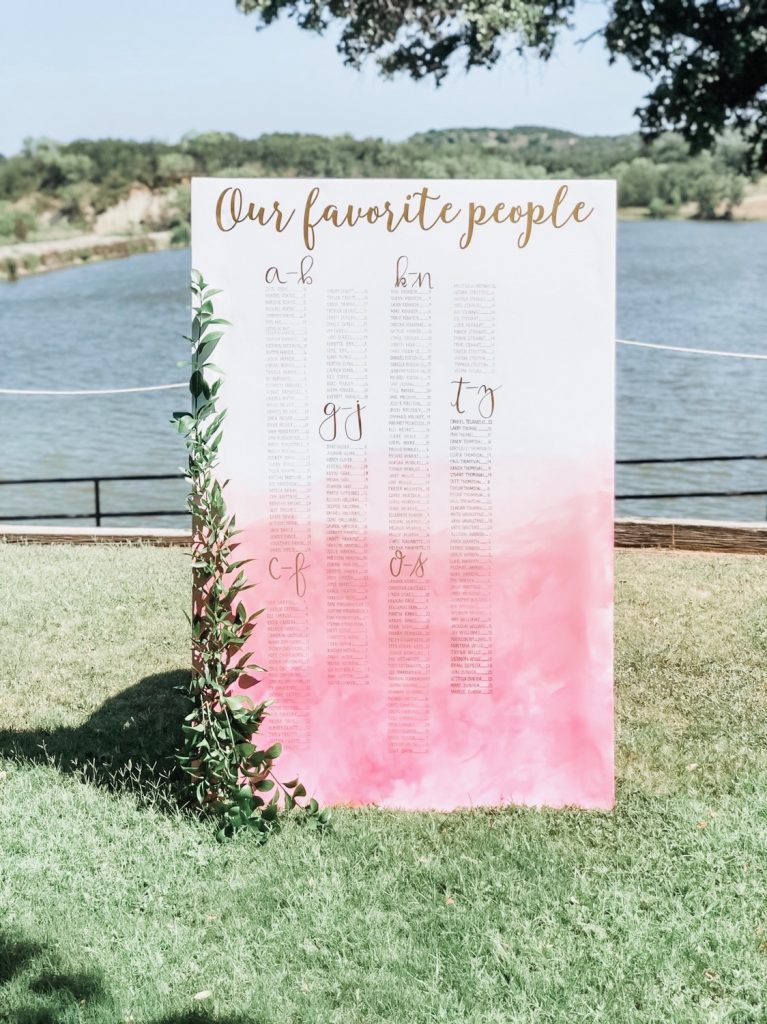 Pros to escort & place cards
Escort and place cards clearly directs the guests to where they need to sit, so it diminishes any confusion after your guests have had a couple of drinks during cocktail hour. 😉 With no guidance, you'll have empty seats. You want your tables to be filled so you can have less tables. Less tables means more money in your pocket (savings on linens, centerpieces, place settings). For example, let's say you have a table with 8 chairs. A family of 5 sits at that table, leaving 3 empty seats. A lot of times guests will just choose an empty table rather than fill those empty seats.
Cons to escort & place cards
They, along with the seating chart, have to be created after you've received all of your RSVPs. So, about 3-4 weeks prior to the wedding you're creating a seating chart and ordering escort & place cards. I have an amazing tool for my clients that helps this process go smoothly, and even order place & escort cards for my clients! I also create a detailed list of which guest is sitting where and what meal they ordered for the caterer.
If you have any questions about escort cards, place cards, or escort displays, feel free to reach out! I'd love to answer your questions. 🙂