The coronavirus pandemic forced many people to postpone their dream wedding until it was safe to hold large gatherings. With the infection rate going down rapidly, and lockdown measures being lifted all over the country, people have started planning smaller and more intimate weddings to comply with the social distancing regulations.
Micro weddings have become the new trend with a few dozen guests and proper social distancing protocols instead of waiting till next year for a large and lavish wedding. Couples have more options for beautiful venues and talented professionals that are available in large numbers, with so many weddings having been postponed.
Here are some expert tips from leading wedding planners and photographers for a meaningful and memorable micro wedding:
Go Back to Your Roots and Embrace Traditions
A small and intimate micro wedding is the perfect opportunity to embrace traditions that are more meaningful to you without having to think about what the hundreds of guests will say. Include elements such as carrying a bouquet, planning a first look, and wearing your family wedding dress to make the big day even more special.
Add A Splash of Color
Instead of going with the typical pastels, which is the go-to color palette for most weddings, add a splash of color to your wedding by changing up the color scheme. Evoke feelings of fun and whimsy to the event and bring levity to the day by doing something different with elements such as bold colored flowers, a blush wedding dress, or colorful ribbons and table linens. You can also ditch the traditional wedding cake and go for a colorful dessert display.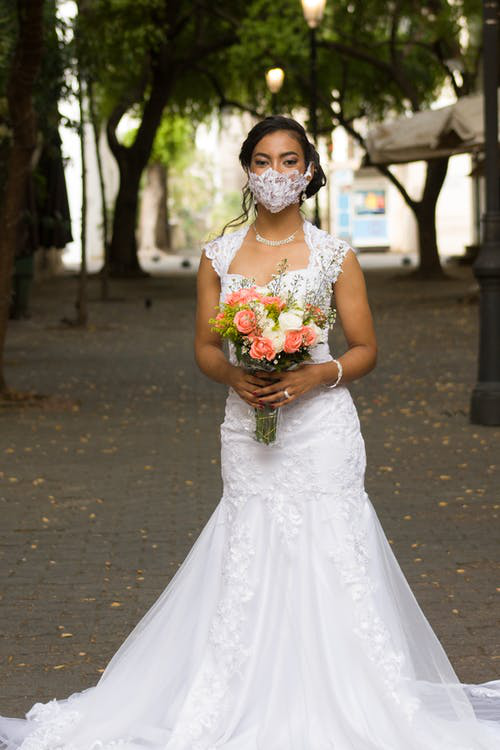 Plan Safe Seating
Even with a micro wedding, you need to make sure you incorporate social distancing for the small number of guests that will attend the event. Consider a round layout to set up the tables and leave a gap of one seat between each place setting. Leave the inner side of the tables empty to give your guests a good view of everyone else and allow for a more intimate and safe interaction.
Create A Single-Serve Menu
Instead of a typical buffet, keep everyone safe by designing a single-serve menu. Serve each guest with a single plate for every course as well as a pre-plated appetizer course with a mix of everything. This will also make it easier for guests to stroll around with plates in their hands while ensuring safe distancing.
Celebrate with A Dinner Party Instead of Reception
Change the way you think of the wedding by planning for a dinner party instead of a reception. Use your budget of 200+ guests and plan a lavish dinner for less than 50 guests by including luxury food items, expensive champagne, and personalized wedding favors to make your guests feel extra special.
Let A Professional Wedding Planner Take Care of Everything
Let a professional wedding planner take over the stress of planning a safe and memorable event as you relax and spend time with your partner. At Sarah Ann Weddings & Events, our team has been helping couples plan their big day for years, and we offer a fully customized experience for our clients.
Hire our professional and reliable wedding planning services for your micro wedding in Wilmington, NC.